Woolla® enters the american market!
15.12.2015, 11:10
We are glad to announce, that Woolla® trademark participates in the biggest international exhibition CHA Mega show together with other world-known companies!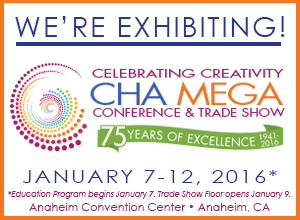 CHA Mega show (Hobby craft show) is held once a year in the USA and is a unique event, which unites the major art and craft companies from all over the world for business. In 2015, companies from 55 countries took part in the exhibition – it is more than 400 manufacturers and more than 12 000 new products! CHA Mega show celebrates its 75th anniversary in 2016. The exhibition is held on January 7-12, in the USA (Anaheim, California) in the Anaheim Convention Center.
Woolla® will show its collection, and will also participate in "Best Product 2016" awards (CHA Hot Product Awards), held at the exhibition, where companies compete with each other in innovations, design know-hows, consumer functionality of their products and etc. The winner will be selected by the jury of the exhibition.
We will be glad to see you at our booth: Hall A, booth No. 2546.
Wish us luck! And keep up with our news!